2022-09-27
On the 135th anniversary of Valiko Jugheli's birth
The imperial situation that revolutionaries from the 'ethnic minorities' of the Russian Empire found themselves in meant that sometimes their 'official' names, recorded by the bureaucrats, were different from those they were commonly known in their milieu. In some instances, this was the result of transition between languages and cultures, in others, this resulted from the revolutionaries' practice of adopting noms de guerre, clandestine monikers, or whatever the name would be on the forged documents. Thus we find that Nikoloz (Karlo) Chkheidze, State Duma member and the first chairman of the Petrograd Soviet, was Nikolai Semenovich Chkheidze in his official documents. Bolshevik leader Vladimir Ulyanov is thought to have adopted 'N. Lenin' from a passport he used. Anarchist leader Vsevolod Eikhenbaum was better known as Voline, after the Russian word for freedom, volya. A social democrat born as Adolf Wastén took up the more Finnish-sounding name Taimi, under which he served on Finland's 1918 revolutionary government, whereas his brother Alexander remained Wastén until he was executed in Leningrad in 1938. And Menshevik leader L. Martov's siblings were known as Sergei Yezhov, Vladimir Levitsky and Lydia Dan, although all were born as Tsederbaums.
In some cases, it is harder to find correspondence between the colloquial names and the official ones, for instance when the relevant archival documents were not preserved. Chief of staff of Georgia's People's Guard Valiko Jugheli spent most of his life in Western Georgia, and the Sokhumi archives which would have had his personal records are known to have perished during the 1990s war. However, some documentation was preserved in his file in the imperial capital, because Jugheli enrolled as a student at the St Petersburg University in 1913 (Central State Historical Archive of St Petersburg [TsGIA SPb]. F. 14. Op. 3. D. 68376 https://spbarchives.ru/infres/-/archive/cgia/14/3/68376 ).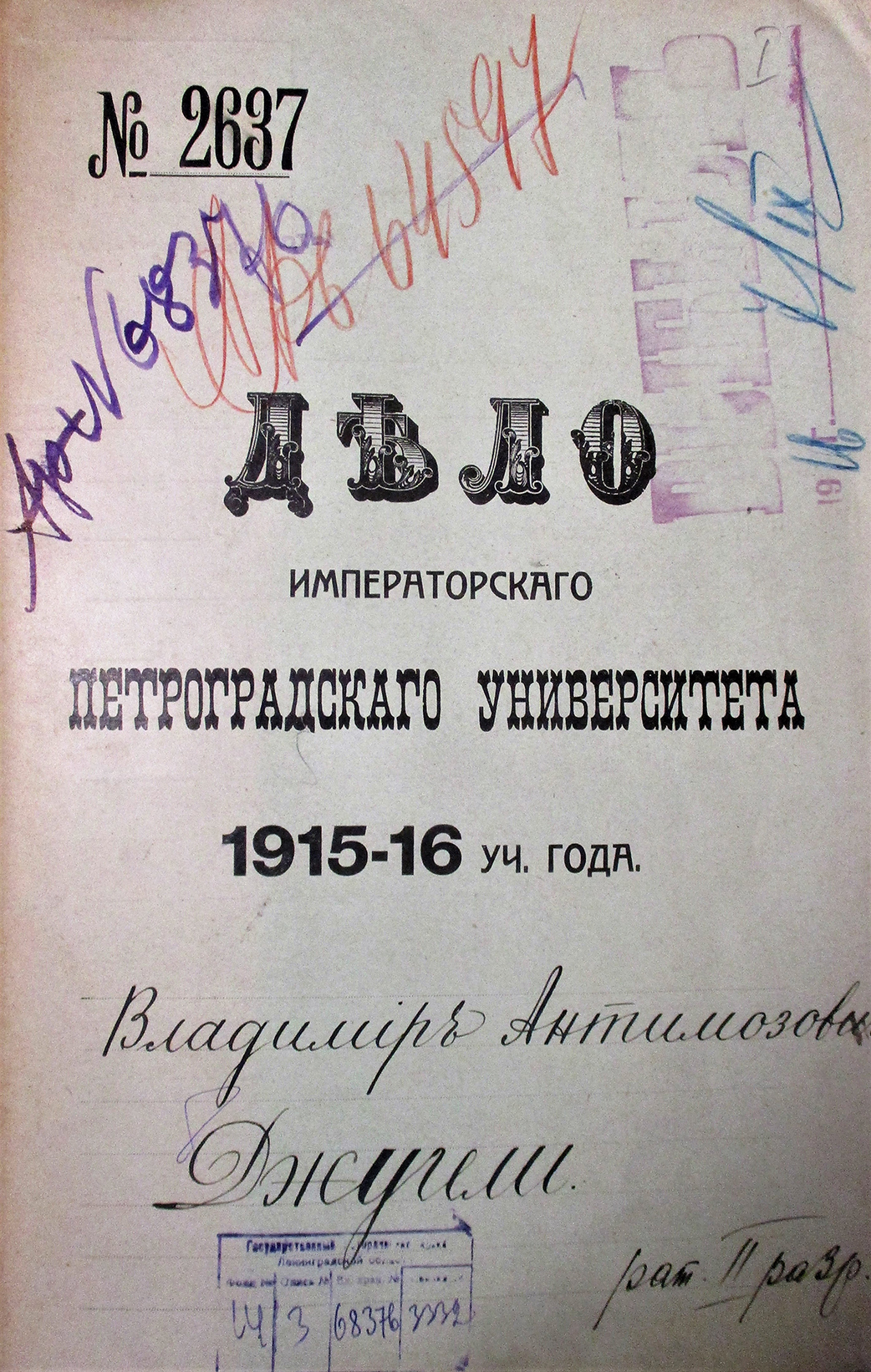 Central State Historical Archive of St Petersburg [TsGIA SPb]. F. 14. Op. 3. D. 68376. P. 15

From the paperwork he submitted, we can confirm that a person whose Russian name was recorded as Vladimir Antimozovich Dzhugeli (Владимир Антимозович Джугели) was born on 15 September 1887, which in today's calendar corresponds to 27 September, and baptised at the Sokhumi St Alexander Nevsky Cathedral on 5 March 1888. We can identify this obscure student with Valiko Jugheli not only because in the Russian-language newspapers he would sign his writings as "chairman of the people's guard staff and member of the Georgian parliament Vladimir Dzhugeli" (See: Zaderzhanie v Tuapse t. V. Dzhugeli // Bor'ba (Tiflis). 1918. 13 Nov.). The photos that he had to submit with his university application are also recognisably of Valiko Jugheli.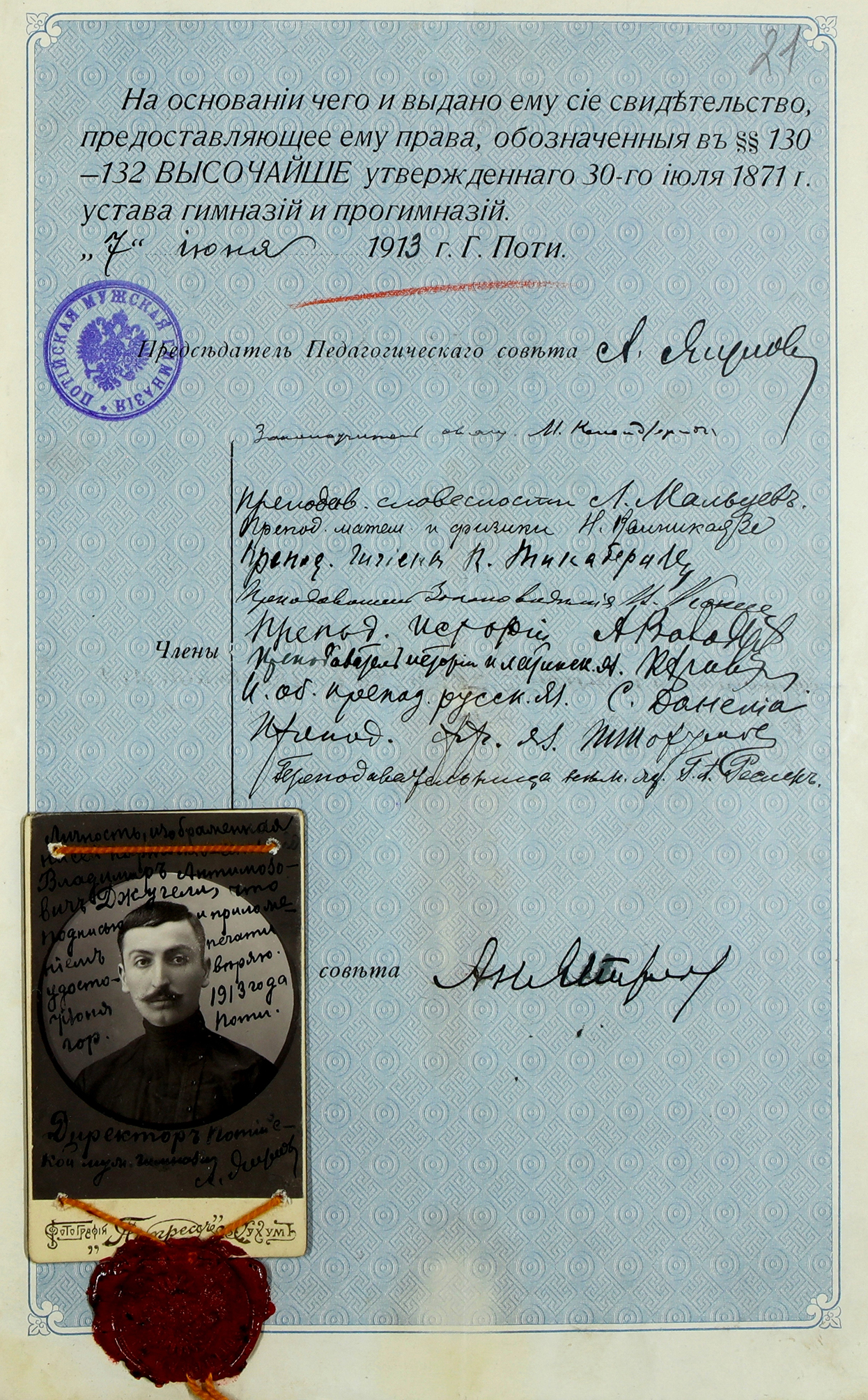 Central State Historical Archive of St Petersburg [TsGIA SPb]. F. 14. Op. 3. D. 68376. P. 21
Jugheli, for a variety of reasons which reflect the turbulent times that he lived in, was not a grade A student of the law department. He was late in submitting his military conscription record in August 1913 because he was registered in Kutaisi and lived in Sokhumi. Jugheli only apparently passed one exam, on political economy, with the prominent economist Mikhail Kurchinsky grading him in April 1914 as "excellent" (Rus: ves'ma). An interest in political economy was only natural in a social-democrat. Although in July 1913 the Kutaisi governor's office found that Jugheli was never on trial or under investigation, and deemed him politically loyal, on 19 March 1914 Jugheli was searched and arrested by the St Petersburg police, alongside fellow Bolshevik Andrei Grinevich. In Autumn 1914 his family was evacuated from Sokhumi due to threat of the Turkish invasion, and he had to live in Kutaisi; St Petersburg University expelled him for not paying the university fee. After reinstating himself at the Petrograd University in 1915, Jugheli was again expelled on 7 September 1916 because he was called up for active military service.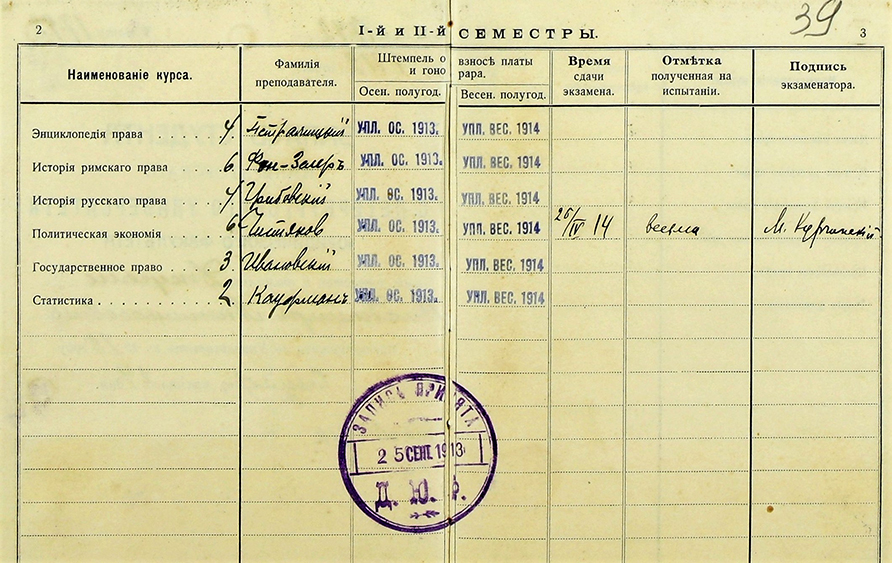 Central State Historical Archive of St Petersburg [TsGIA SPb]. F. 14. Op. 3. D. 68376. P. 39a
The rest of Jugheli's career as a public and military figure of the Democratic Republic of Georgia is much better known than his early years, largely thanks to his 1920 diary book "Heavy Cross", recently translated into Georgian. We know that after the Soviet Russian occupation of Georgia he continued his education at the Saint-Cyr military school in France before returning to his homeland to take part in the doomed 1924 anti-Bolshevik uprising. We know that Valiko Jugheli was executed on 30 August 1924. Now we also know that he was 36 years old at the time.
Dmitrii Ivanov,
European University at St Petersburg